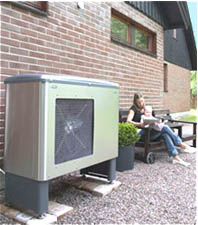 Air Source Heat Pumps do not require any ground works during the installation of the unit. Installed Air Source Heat PumpsThe cost of ground works for the alternative ground source heat pump systems can be large, and normally play a big role in the design of the total system. Often people simply do not have the land available for the ground source heat pump, this is where the air source heat pump stands apart from the rest.
Air source heat pumps provide an alternative low cost solution for space heating and hot water. A typical return on investment against Oil and LPG fed heating systems can take as little as 5 years.
Air Source Heat Pumps also provide hot water up to temperatures as high as 58°C which is suitable for all domestic and commercial requirements. This will require a tank which is specified to the usage of the homeowner or usage of the building. The larger the tank, the larger the output of water.
For installations over 16kw, Air Source Heat Pumps installed by Solo Heating Installations will require a 3-phase electrical supply. Below 16kw will only require a standard single phase supply, this is because the NIBE Air Source Heat Pump units installed by Solo use soft start mechanisms.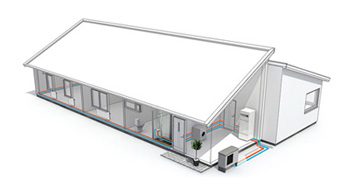 Contrary to common belief, air source heat pumps are very quiet in operation and are comparable in sound to a fridge freezer. In new homes or properties meeting current sound insulation standards, the noise from a heat pump is minimal. We invite anyone who is considering an Air Source Heat Pump to come and see one in action for themselves.
NIBE 2040 Air Source Heat Pumps
Installation of NIBE air source heat pumps can lead to your energy consumption for heating being reduced by up to 60%, in comparison to conventional heating systems.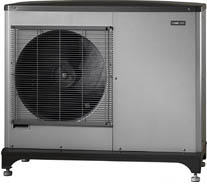 An air source heat pump is an excellent, cost effective option for those looking for electrically driven heating in their home. A NIBE air source heat pump will output temperatures hot enough to heat all the hot water in the house as well as the heating. With it being a heat pump it is also very cheap to run, and the NIBE air source units are one of the quietest on the market.
The basic air source heat pump system consists of an outdoor air source unit, indoor hot water tank and indoor buffer tank. (The buffer tank is similar size to the hot water tank and stops the heat pump from cycling on and off during operation.) An even simpler system is also available which will consist of one indoor unit called the VVM 320 (see below for details). The VVM 320 is ideally suited to houses with a hot water demand up to 185 litres, and is an all in one hot water and buffer tank.

NIBE VVM 320 Cylinder
NIBE VVM 320 is an unvented hot water cylinder and electric boiler in one. It consists of a double jacketed water cylinder, (a small scale thermal store) two immersion heaters and intelligent controls. VVM 320 is designed for connection and communication with all NIBE air source heat pumps.
If the air source heat pump cannot meet the heating requirement, additional heat is shunted in from VVM 320. When the outside temperature drops below a certain pre-determined point, the VVM 320 engages and takes over the heating.
The VVM 320 is designed to bring the efficiency of a NIBE air source heat pump system to its highest level. It works with the air source heat pump automatically to control hot water and heating for your home.
Solar Thermal with Air Source Heat Pump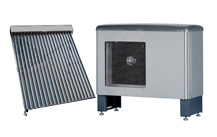 A commonly installed system is solar hot water panels docked to air source heat pump. They key thing to this system is the solar hot water cylinder. NIBE make a dedicated VPAS solar cylinder, which allows easy docking of an air source heat pump and solar thermal together. The solar coil is positioned so that the panels benefit the hot water and heating system, thus getting the most out of the solar. Although we design the air source heat pump to still manage the system on its own, the solar thermal is seen as an added bonus of energy, that will reduce running costs where it can.
Wood Burning Stove and Air Source Heat Pump
A wood burning stove with a back boiler can be docked to an air source heat pump. A thermal store with extra heating coil will be installed, which will allow connection and docking to the wood burning stove. When the stove is providing hot water to the cylinder, the cylinders sensor will sense the rise in temperature and automatically block the air source heat pumps operation. This setup ensures the air source heat pump is not working unnecessarily when the stove is giving heat to the cylinder. The NIBE thermal store used in this system also allows the wood burning stove to contribute to both the central heating and hot water production in the home.
Exhaust Air Heat Pump and Air Source Heat Pump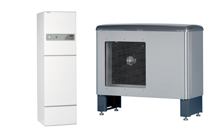 Some NBIE exhaust air heat pump models can be docked to an air source heat pump. The air source heat pump will provide the base load for the heating and hot water system, with the exhaust air heat pump giving an extra boost where needed. During the most part of operation, the exhaust air heat pump concentrates on the hot water requirements for the home. When these systems are setup correctly and in full operation, they will provide extremely low annual running costs to the homeowner.