The majority of modern underfloor heating systems are warm water systems, which integrate high tech plastic pipe either within or just below the floor.
Water at a temperature of around 34°C is circulated through the pipes and this warms the floor to a surface temperature of 25-28°C, about the same temperature as the palm of your hand. This is what makes underfloor heating so naturally comfortable.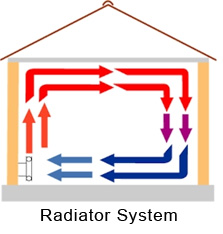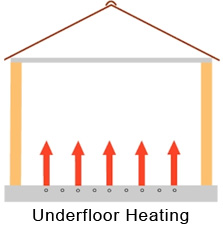 The heat generated by radiators is transferred from a small surface area far hotter than the space it is heating. By comparison, wet underfloor heating transfers heat from a very large surface area, which is only slightly warmer than the room. Modern underfloor heating systems are economical to run, virtually maintenance free and utilise effective controls. They provide the most comfortable all round warmth of any heating system.

Radiant energy emitted by the floor is partly reflected by each surface and partly absorbed. Where it is absorbed, that surface becomes a secondary emitter .After a while, all surfaces become secondary emitters. Furnishings themselves radiate energy and the room becomes evenly and uniformly warmed. The energy reaches into every corner of the room - no cold spots, no hot ceilings and no cold feed.