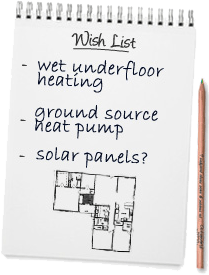 Just like our partners Solo Timber Frame, we believe that service is the most important thing when selecting a company to install new systems for your self build or development. New technologies are becoming available to home owners to cut down on running costs, improving efficiency and reducing carbon emissions. Solo Heating Installations are experts in incorporating such designs individually or jointly with other types of technology to maximise gains and pull back initial costs at the installation stage.
We also understand that the cost/benefit is sometimes too high; this is where our no-nonsense approach counts. We will always point out the positive and negatives to ensure you can make a realistic decision.
With the huge amount of different technologies now available to install it can be difficult to understand what to choose. Solo Heating install all the different systems on our Technologies page, but will always look at accommodating the requests of our customers if they fall out of our scope.