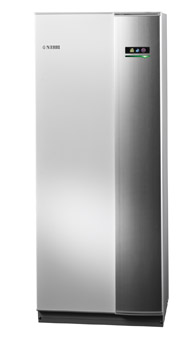 NIBE 1145 Ground Source Heat Pump
Your energy consumption for heating will be lowered by up to 80% with the use of the new 1145 NIBE ground source heat pumps.
NIBE produce 15 different types of Ground Source Heat Pumps, ranging from 5kW to 60kW. By using a cascade connection it is possible to achieve an output of 540kW. The heat pump will be sized exactly to the heating requirement for your home; which will ensure no startup cycling during its operational life.
The energy consumption for heating and hot water can be lowered by up to 80% in comparison to heating systems using fossil fuels.
NIBE FIGHTER 1145 is a ground source heat pump for heating small and large houses.
NIBE FIGHTER 1145 ground source heat pumps are equipped with a control panel that offers the homeowner easy to use functions on the heat pump.
- NIBE's modern scroll compressor means the heat pump runs silently during operation, something not seen on a heat pump before.
- Large control panel on the front of the unit for ease of use by the end user.
- Double heat curves which increases the efficiency of the unit, compared to other available models.
- Outdoor weather compensation control allows a total energy efficient running cycle. The ground source heat pump adjusts its output compared to the outside temperature; this ensures the most economical operation of the heat pump throughout the year.
- Soft start fitted to all NIBE ground source heat pumps as standard. This ensures on startup of the heat pump the current drawn from the electrical supply doesn't affect the rest of the properties supply.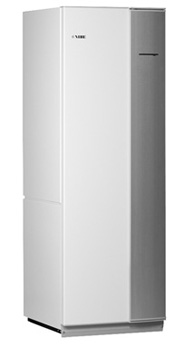 NIBE 1245 Ground Source Heat Pump
The NIBE 1245 ground source heat pump system is suitable for small family homes, with average demands for hot water.
They come with an inbuilt hot water heating system and electric immersion heater backup. The tank in tank heating system for hot water ensures the entire 180 litre hot water tank comes to temperature in the fastest time, and by mixing the hot water down to useable temperatures through a blending valve, the actual useable storage volume increases to around 200 litres.
- Features an in built hot water cylinder, which is capable of proving hot water for most 2 to 3 bedroom homes.
- The unit can be connected to two different heating temperature zones. This would include a radiator system and underfloor heating circuit.
- In-built immersion heaters come on automatically under extreme loading conditions. These are pre-programmed to work with the ground source heat pumps in the most efficient and economical way.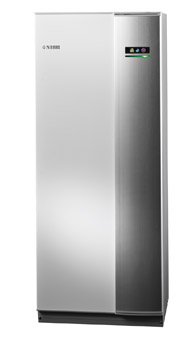 NIBE 1345 Ground Source Heat Pump
Introducing the new 1345 NIBE Ground Source Heat Pump, the replacement for the 1330 Unit.
With its two large scroll compressors, NIBE F1345 is the ideal ground source heat pump for multi-occupancy buildings, industrial premises, churches and other buildings with a large heat demand. The heat pump compressors collaborate and engage as necessary, give better power control, less wear and greater operational ability.
The new F1345 Ground Source Heat Pump is more flexible than ever and with its advanced control system it can be adapted to several system solutions. In systems with up to 9 heat pumps and with a wide range of accessories e.g. for control of oil, gas, pellet fired or electric boilers, you find the full flexibility for your installation.
NIBE F1345 is equipped with a multicolour display, multi languages support and simply upgradable software via the built in USB port.
NIBE F1345 is manufactured in four sizes; these feature outputs of 24, 30, 40 and 60 kW.
Perfect solution for buildings with large heat demands
Docking possibility – up to 540 kW in cascade
High COP – provides savings and shorter payback times
High flow temperature (up to 65°C) – means great installation flexibility
The NIBE 1345 Ground Source Heat Pump is designed for buildings with large heating requirements. These heat pump units require 3-phase electrics, and house twin scroll compressors for greater efficiency during operation.
Outlined below are some of the many upgrades possible to the ground source heat pump system's Solo install.
NIBE 30/40 FLM Exhaust Air Module

This unit is the ideal solution in new buildings to meet the energy savings directive, and renovated buildings to eliminate issues with ventilation. It combines heat recovery ventilation with the ground source heat pump unit to increase the total system efficiency, and ventilate the stale air areas of your home. Air is extracted from the bathrooms, kitchen and even pool areas; this air is taken back to the air module where the energy is extracted. This energy is then given directly to the incoming brine from the ground loops, thus increasing the incoming temperature and the systems efficiency.

NIBE 10/20 PKM Passive Cooling Module
The PKM unit will allow free cooling of a property over a suitable surface area. Heat will be taken from a space through underfloor heating or fancoils to actively cool an area down in the summer. The unit can actively cool a house down whilst still providing hot water supplies through a separate heating coil.
NIBE HPAC Cooling/Heating System

The HPAC unit will turn a NIBE 1145 / 1245 and 1330 ground source heat pump into a complete climate controlled system. Heat energy will be taken from rooms during the summer through the underfloor heating or air-conditioning system. This energy is transferred through the ground coils into the earths soil. This charging effect during the year increases the systems efficiency during the winter as the stored energy in the ground is taken for use. Solo Heating Installations would recommend this upgrade for large houses or large surface area rooms in conjunction with underfloor heating.
Swimming Pool Heating with Ground Source Heat Pump

We can dock and heat a swimming pool with a ground source heat pump. Swimming pools can be costly to heat throughout the year, and ground source units will reduce costs significantly. Depending on different factors, such as whether the pool is covered or in a heated building, we will work out the heat load requirements for the pool. The pool heating requirements are then taken into account when designing and sizing the ground source heat pump. The ground source heat pump will provide heating up to a stainless steel heat exchanger installed in-line with the actual swimming pool water. This ensures no contamination to the pool or heating system. The ground source unit will be programmed with a timer to ensure the pool is only heated when necessary.
Solar Thermal Panels with a Ground Source Heat Pump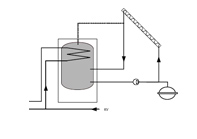 Solar thermal panels can be docked with ground source heat pump systems. The hot water cylinder will need to be upgraded with a separate solar coil, which allows a sealed solar panel circuit with its own specialist antifreeze to join into the system. NIBE provide a solar coil cylinder, which holds a total hot water volume of 300 litres, and an outer jacket volume of 450 litres. This allows safe docking and efficient operation of multiple panels, giving large amounts of hot water throughout the year. A full solar panel suitability assessment will be completed at the design stage.
Exhaust Air Heat Pump Docking to Ground Source Heat Pumps

Ground source heat pumps can even be docked to exhaust air heat pump units. The exhaust air heat pump will extract stale air, and transfer its energy through heat pump technology to its own hot water heating system. The ground source heat pump is therefore used to provide space heating through the use of underfloor heating or radiators. If the exhaust air heat pump cannot cope with the demand for hot water, the ground source heat pump gives an extra boost energy. These systems will provide a fully ventilated and heated property, and will have extremely low annual running costs.
Heat Recovery System Free Cooling with Ground Source Heat Pump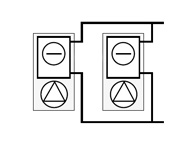 Free cooling to a heat recovery ventilation system can be achieved with a groundGround Source Heat Pump and Heat Recovery System Free Cooling source heat pump using a ground loop or boreholes as a heat source. The incoming air supply to the heat recovery unit will have a water to air fan coil heat exchanger installed. These heat exchangers are custom built for every property and will allow the ground loop brine to pass through the heat exchanger and passively cool the air coming into the house through the heat recovery system. Expect to see a 3- 6 degree C temperature drop in the incoming heat recovery air. The free cooling system is controlled by a thermostat inside the property, this ensures free cooling is only activated at a pre-determined temperature. This upgrade will cost in the region of £1,500.00 to install, but it will provide powerful cooling at the cost to run a circulating pump (0.2p per hour).