As we have mentioned above, the 410P units provide a fully sealed and controlled method of ventilation and heating for your home. They require the installation of an extra duct system that will supply pre-heated fresh air to the livable areas of the home. These units are especially suitable for new properties and smaller homes / flats. New builds are now extremely air tight and these units cover all ventilation and renewable energy requirements all in one. The 410P exhaust air heat pump system works with many of the principles of a full mechanical heat recovery system, with the added benefit of heat pump technology.
Use this interactive diagram to see how these systems will work within your home:
NIBE 200P and 360P Exhaust Air Heat Pump
These units are very similar to the 410P unit, the only difference being they do not supply fresh ventilated air to the livable areas of the home. Instead they rely upon various air intake grilles direct to the outside air. When the stale air is extracted to the unit, fresh air is naturally brought into the home as the air pressure balances are changed. Because the unit does not preheat the fresh air, the Kwh per year savings on the 200P and 360P units are less than that of the 410P exhaust air heat pump.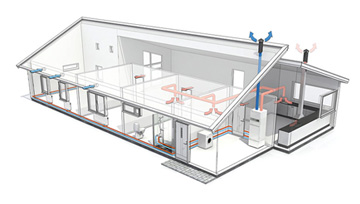 The 200P has inbuilt immersion heaters rated at 3Kw, and the 360P has a rating of 8Kw. depending on the heating load and hot water requirements of the property, we will size the unit accordingly.
The NIBE exhaust air heat pump range is ideally suited to new build flats or small homes. They will cover Code For Sustainable Homes renewable energy requirements, whilst providing a relatively low cost solution for heating and hot water.
As with all exhaust air heat pump systems, careful commissioning procedures must be met in order for the system to operate correctly. These included an accurately balanced extract and supply fresh air duct system. In 200P and 360P units, careful consideration to the fresh air trickle vents must be given to ensure an efficiently operating system. This is where Solo's experience and understanding of these systems counts; we can ensure a fully operating efficient system, which will give many years of trouble free use to the home owner.
Speak to Solo about designing and installing the correct exhaust air heat pump system for your new home or development.